New member of the pack
We have nice news for you. At the end of September, the newest member of the pack - Chenespace One in a Million "Millie" - came to us from Finland. Millie comes from the Finnish kennel Chenespace. We are a little sorry that the current epidemiological situation has not allowed us to pick her up in person. At the beginning of the summer, like most people, we believed that in the fall we would be able to travel as we wish. We therefore planned a long family trip to Scandinavia, during which we wanted to visit Millie's kennel of birth. We hoped to see some very nice, typical representatives of the breed and finally chat in person with the members of the Chenespace team, with whom we communicate from the very beginning of our breeding plans. We owe them a huge "thank you" for their willingness to share their "know-how", tips, experiences and advice to us. We are very sympathetic to their approach to health and medical examinations. We have been agreeing on cooperation for some time. But now the right time came, and we can finally enjoy this little, perfect princess. At the same time, we would like to thank Juulia, Tuulia and Tuuliki Salonen for the trust they have placed in us and have entrusted us with one of their "children". In return, we can promise to take care of Millie the best we can. Millie is now enjoying our presence in the yard. We take her to the pastures every day to slowly get used to her future place of stay. For now we don't leave her unattended with the rest of the pack. In the harsh games of the youths she might get injured, and we are not willing to risk it. We consider it a great start that she is not chasing the sheep madly all over the pasture. She is a very exploring and courageous girl, kind and lovely and laughing in the typical "Pyrenean way".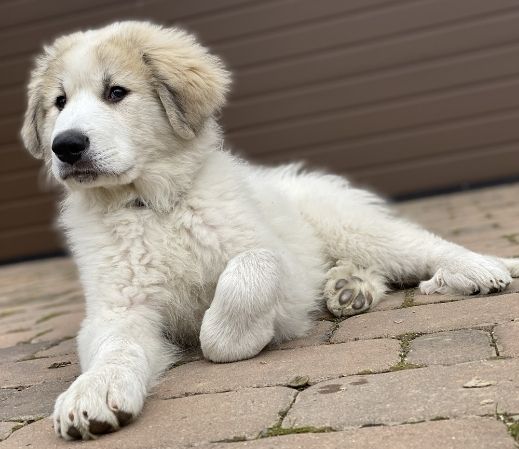 Chenespace One in a Million "Millie"
Sire: Chenespace Troufion de Thuir Dam: Chenespace Here There any Everywhere
No comments
Leave a reply