What's new with us?
We haven't added any info or photos to the web or our social networks for a long time. Not so much is happening, thanks to the rough time we have to face. Moreover, the rainy, shady sad weather does not help to the sad mood worldwide. Thanks to that weather, we are not able to make any nice photos to share. As my great friend says when I ask her how her dogs are doing she always responds, "they didn't say anything but they eat and poop" i might say, lately it's the same here. The new sheep have already acclimatized beautifully, for the last month the older ones have been accompanied by a breeding ram of the Charollais breed, so we hope that they will succeed and by the end of spring we will be able to enjoy the birth of the lambs.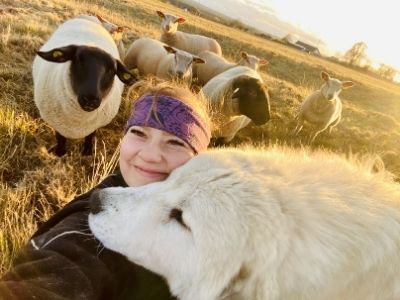 Aris z Adršpašsko-teplických skal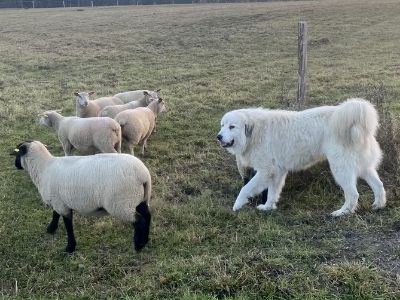 Aris z Adršpašsko teplických skal

It makes me very happy that our "little" Millie (a.k.a. Miluna) is doing very well on the pastures. We spend with her more and more time there the last days. She is the first of our dogs, who did not show the slightest tendency to chase sheep.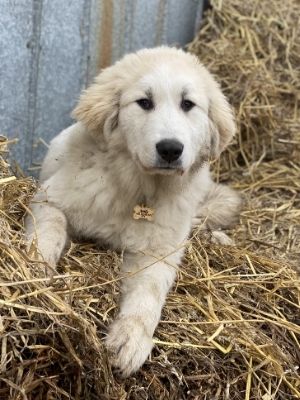 Chenespace One in a Million

Another positive thing was that Faury had visited us at the pastures to join her ex-pack (even I always say, she is going to be a part of it forever). Many ugly (fictional) rumors are associated with Faury in connection with us. However, her story is best known by us and her new owner. On the contrary, the mutual interest (ours and new owners) in Faury's regular trips / visits to us proves that the situation is often not as black as it is presented on social networks. Faury has the best place to live not thanks to anyone else, but her owner Denise, who believes in her, takes good care of her and, together with her family, gives her an endless amount of love. We visit Faury regularly and try to continue to support her.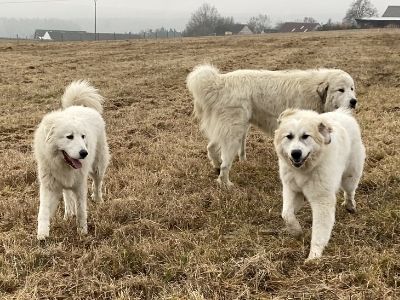 Rodentáli Zippa, Faury Patou de l'Orri, Aris z Adršpašsko-teplických skal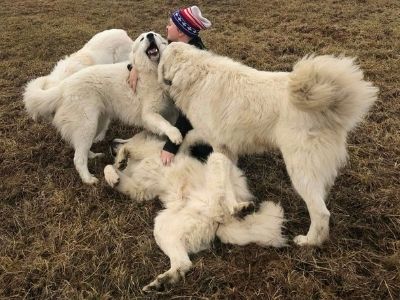 Faury, Zippa, Sonny, Aris
You might have noticed that philosophy is a very strong and important part of my life and the life of my family. That's why I regret how people in these times when it is important to support each other are in "war" with the "others" just because they don't share the same opinion (and then actually because they share it). I am sorry to see individuals use the platforms of their social networks or websites to accuse others (even without names mentioned). When they appropriate general facts and present them as their own opinions with a patent. After all, more people may share the same opinion, and we should be happy that we are not alone with that opinion or point of view. Once the grass is green, it is green, and no one will say that the grass is the same color as when you mix blue with yellow. I also regret how people strongly express their sympathies or antipathies through "likes", "hearts" and "kisses" or, conversely, complete ignorance on social media. I am sorry how the unhealthy self-confidence has grown from the small successes of individuals and also the fact that the humility that everyone loves to mention in connection with our breed has disappeared somewhere. Hard times are trying us and none of us knows what will happen next. We do not know whose help we will need and who will need ours. That is why it is important not to burn bridges and build barriers, but to put aside senseless disagreements and unjustified conflicts. Each of us shoul look at the mirror and honestly say that we have made or haven't made any mistakes. All I can do is believe that all of us who truly love this breed will eventually stop fightin, blaming and accusing each other and we will all find a common path and respect for others.
Anyway…
I would like to wish you, in the name of our family, pleasant and peaceful holidays and a successful new year, health, love and satisfaction for everyone, and a great deal of positive energy,
Katka from the Treehouse
No comments
Leave a reply