News in June
Finally, the weather corresponds to the season of the year. The lavender is already beginning to bloom and the bees are working at full speed. This year's first honey will be bottled next weekend. As for dogs, a few nice news would be found as well. As I announced a month ago, Sonny's orthopedic examinations turned out as best they could. But we are also pleased with the results of the genetic examinations. Sonny is "negative" on both DM and CMR1. In addition to all this, we also underwent an eye examination with MVDr. Beránek. Sonny has healthy eyes and is free of hereditary eye diseases. The last piece of the puzzle was just an assessment of breeding, which he also successfully completed in the club show.
The club show of the Club of the Pyrenean breeds took place on June 5, 2021 in Moravacamp in Mohelnice. Great praise to the organizers for choosing the place. The camp was clean and tidy, with great facilities. For us, such a place is absolutely ideal, because we go to exhibitions with our camper.. We hate getting up early, so a 6 hour drive by car with three dogs is not our cup of tea. This is why we go a day or two earlier and always take the the road to the show as a family trip, we stop at interesting places, socialize dogs in different environments and under different conditions. The dogs manage such journeys perfectly. We often stop so we can go for a walk with them, let them drink. When we stand, they do not have to to stay in a hot in a hot crate, their "garage" is air-conditioned and they have shade. Perhaps the only downside is when some intolerant people walk their dogs at 3 or 4 a.m. in the morning immediately in front of their spot. Then, they start to bark and bounce all over that one prays to all the saints that the camper will keep on standing on "all six".
The exhibition turned out absolutely great for us. I was a little disappointed that the originally delegated judge from Sweden, Pernilla Sandström (Sonny's breeder) did not arrive. Thanks to the possibility to visit her in person at her home, I know that she is very careful about every detail and is very critical of her own dogs and offspring. The judge at the show was Mrs. Olga Dolejšová. We had the opportunity to exchange a few words within the show ring and thanks to that I am richer in advice on how to keep the quality of our breeding, which we set to ourselves. The victories of Zippa and Sonny, each in their own class, were completely unexpected to me. I go to every show (and there haven't been many yet) with the feeling that I have the worst and ugliest dogs. Paradoxically, the only one I put any hope into was Millie, who finished "only" as second, with an Excellent 2 result. Millie is very young so far, and has plenty of time to "improve." But the most important thing for me was that Sonny fulfilled all the requirements to become a stud male. I am also very pleasantly surprised by the behavior of my dogs. In particular, Millie, who arrived from Finland at 10 weeks of her age and since then lives practically only in the yard or on the pasture and therefore did not have the possibility of any socialization, surprised me very nicely. Although she ran with her head bowed, she did not freak out and had no unwanted behaviors. Another moment that convinces me of how important temperament is. Millie is not timid or aggressive, but she needs a lot of different interactions so that she doesn't just be bothered by something in other shows, or something less important doesn't attract her attention. I had a little concern about Sonny, who is incredibly stubborn, and my previous attempts to train him for the show were not successful. At the exhibition, however, he showed the exact opposite. With a beautifully raised tail and confident behavior, he made me a very proud dog mom. When it comes to Zippa, I don't have much to say. Zippa loves any kind of attention. She runs on her own the ring, and she also stands nicely, practically without any of my assistance.
I think that the show succeeded more than well after such a break and the expected complications. We got nicely greeted and met a lot of nice people. Most of the people were very positive, apparently because finally something that they love to do was happening. With a few exceptions, when I was not greeted back, or at least nodded and they lacked elemental decency. No one is responsible for an individual's behavior, only the specific individual himself. But the worst moment for me was the sight of some very young and yet limping dogs. According to the owners, however, the breeder present at the show in person was not at all in order to solve the situation or take responsibility. Perhaps next time, the epidemiological situation will allow friends and acquaintances from abroad to arrive, and in addition to "exhibition stress", we will also enjoy a little peace and a pleasant time spent together. Next to our camper, under the pergola there is always enough space for a lot of good and positive people, always enough wine and for everyone a steak or a piece of cake.
Results of club show KPP
Judge: Olga Dolejšová
Rodentáli Zippa - Exc.1, CAC (Intermediate class - females)
Vi'skaly's Sonny Sunbeam - Exc.1, CAC (Intermediate class - males)
Chenespace One in a Million - V2 (Junior class - females)
Photos from the club show will be uploaded to the album in the photo gallery.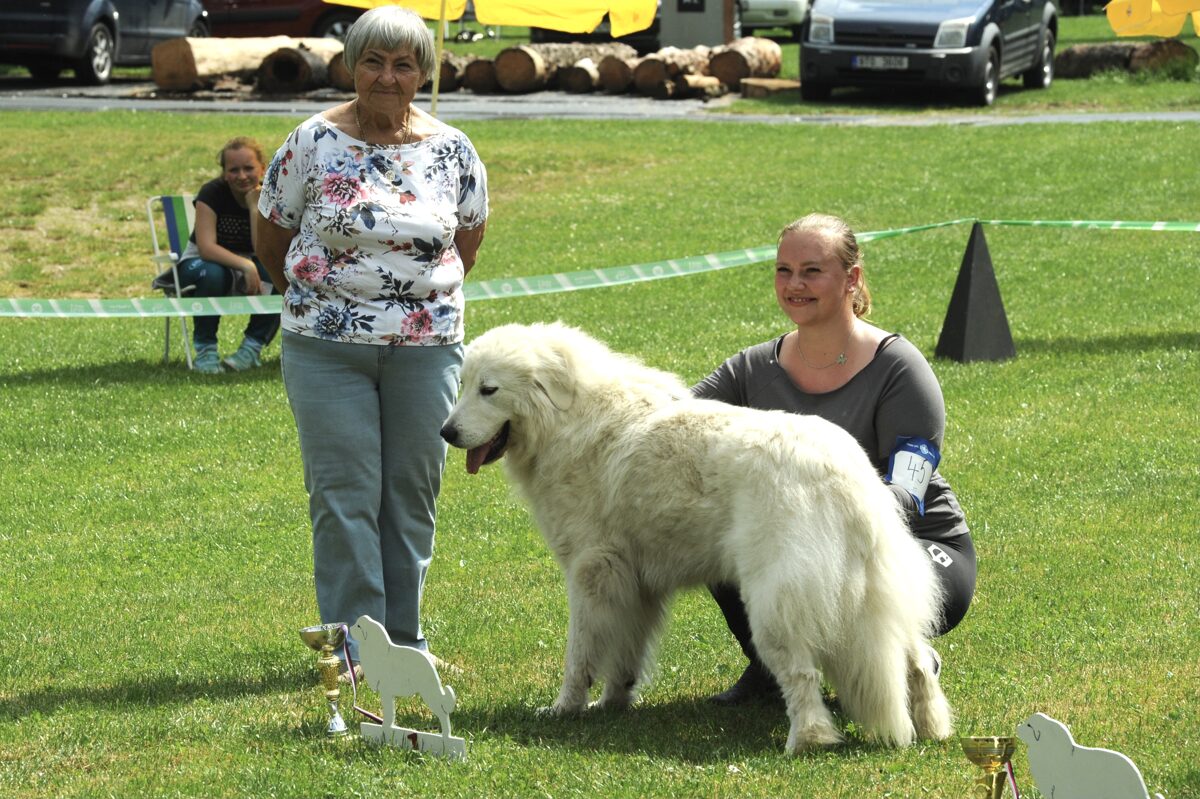 Rodentáli Zippa, winner of intermediate class (Exc. 1, CAC)
No comments
Leave a reply