Club show of KPP - end of the show season
This weekend we participated the club show organized by the Czech Pyrenean Breeds Club. We took Sonny to his last show, as already announced, there is no reason to force him or drag him into an environment that he is uncomfortable with. We also took Millie with us, who is still not in show condition, she is naked, coatless and since she has now grew a lot to height, she looks and is actually quite skinny. Millie successfully passed the breeding assessment. We have medical examinations in February, and if the results are OK, Millie will become approved brood bitch. The show was judged by an Italian breed specialist and breeder of this breed, Elena Vespa. I have been communicating with Elena for a long time and I own several paintings of "Pyrs" from her work, so I was very much looking forward to meeting each other. At the same time, I knew that Elena was very thorough in her judging, and also very strict, and I was particularly looking forward to that. She really devoted a lot of time to judge each individual and examined them very thoroughly. At the end of each class, she explained why she chose the individual or evaluated it with a mark, which she finally evaluated. I tried to listen to the assessments of other individuals, because I consider it very important that the owners, exhibitors, and therefore breeders understand the standard and essence of the breed. For many individuals, the gradings were not exactly flattering, and I think we all needed such an "wake up call". Over the last year and a half, the pandemic has made it impossible to invite foreign specialists to the breed, so many of us were used to very easily get the grade "excellent", CAC, CACIB, BOB and BOS, etc. Thanks to such an approach we have many champions, but unfortunately not completely in the correct type. Now I fully understand breeders, owners and exhibitors who go exclusively to exhibitions, which are judged by a breed specialist, or go to exhibitions abroad where those specialists are. I really liked the approach of this judge, that there is no need to "give away" all the titles and trophies. Simply, if the dog did not looked like it should have, it did not receive an award just because it was there and there were only a few of them in the group. What value does a champion title have if the dog / bitch is not in the correct type? In order not to say that my contribution is focused only on certain favorites who did not left the show with flattering results, I would like to emphasize that it applies a lot to us as well. Sonny usually gets the grade "excellent" and also CAC in the intermediate class. It was Elena who gave him only the grade "very good". And I proudly boast about this judgement, because I think that everything that the judge criticized about Sonny is absolute truth, which I also see and I completely agree with her opinion. Millie, on the other hand, does not do well with the so-called "all-round" judges due to her condition, and I am sorry for that, because also as Sonny's shortcomings I am very well aware of her in many respects high qualities. Millie received the mark "Excellent" 1 and CAJC in the junior class, but more than her grade, I am pleased with Elena's words, as part of the assessment, when she raised all her qualities and alerted me to others that I did not realize before. But she also said that Millie needs to get some coat and weight as well. Perhaps people will understand the difference and stop being angry about how the judge evaluates them. And although they say in a full tone that they don't care, their actions show the opposite. Not only did I see false information, but also, a minute after the assessment, there were no happy posts about "very goods" on social networks, as is the case when "excellent" and all the other titles around are received. Sometimes we just need a tough realization to come back to the ground. But overall, I would consider the exhibition as perfect. Except for a few unsatisfied exhibitors, the atmosphere was quite positive. The compliment goes to the committee for allowing us to have our dogs judged by this judge and thanks also to some members of the committee, with whom I had the opportunity to spend some nice moments and have a nice chat. Perhaps the pandemic will not limit us so much in the future and we will have the opportunity to have our dogs in the club for the Pyrenean breeds judged always sufficiently strict and the breed very well knowledgeable specialists. The club show of the second club also took place on the same day. As a member of both clubs, I was interested in participating in both club shows. But being in two different places at the same time is impossible, so I preferred the one Elena judged. But a big congratulations goes to my friends Jitka and Barča to the show successes, which they got with their darlings (uncles and aunts of our puppies) at KV KCHMPP.
This weekend, this year's show season is completely over for us. With winter coming, the work around the house and farm increases. We will now enjoy the last moments together with the puppies, the dogs on the pasture, the sheep and try to get back to the "rest mode" and overall harmony.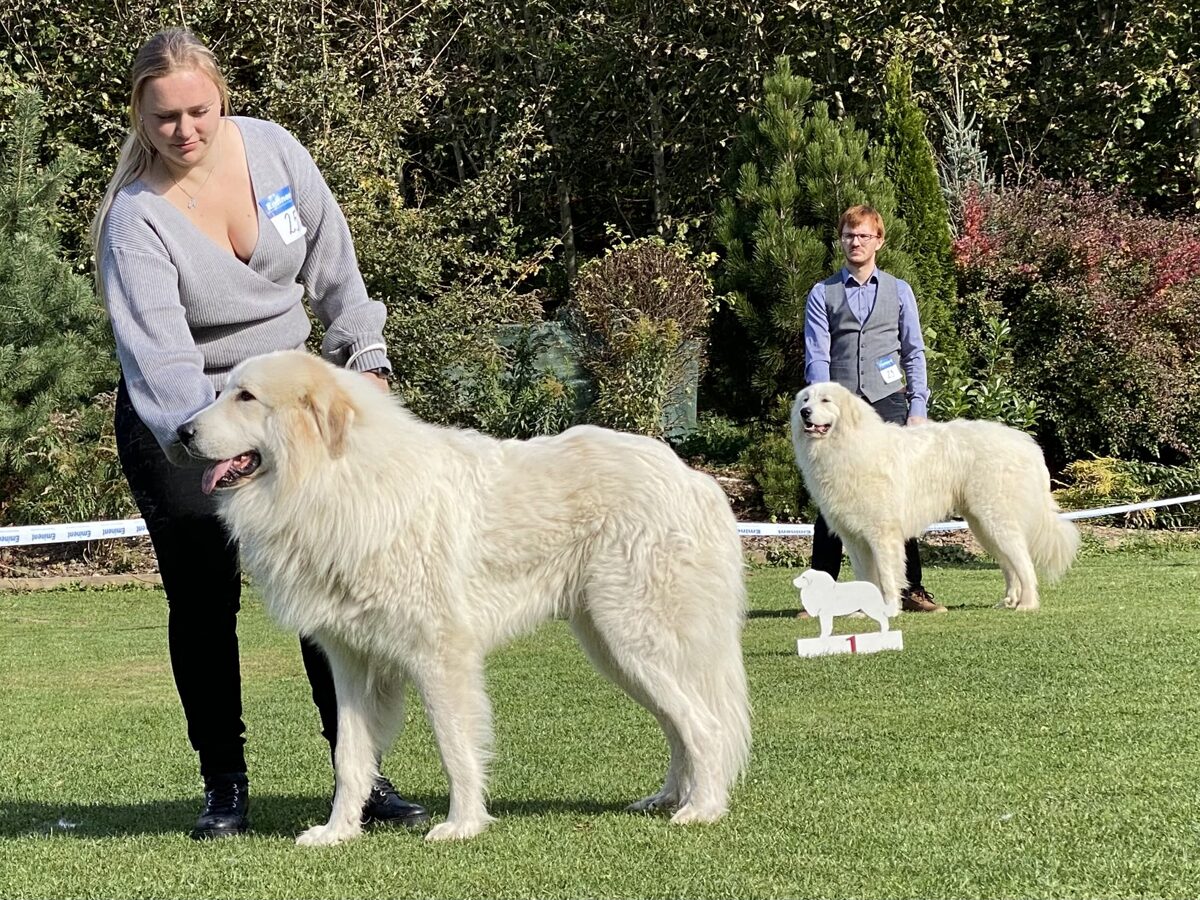 Vi'skaly's Sonny Sunbeam - Very good - intermediate class males (in the background Gabaston Boy from Pyrlandia - Excellent 1, CAC - Congratulations)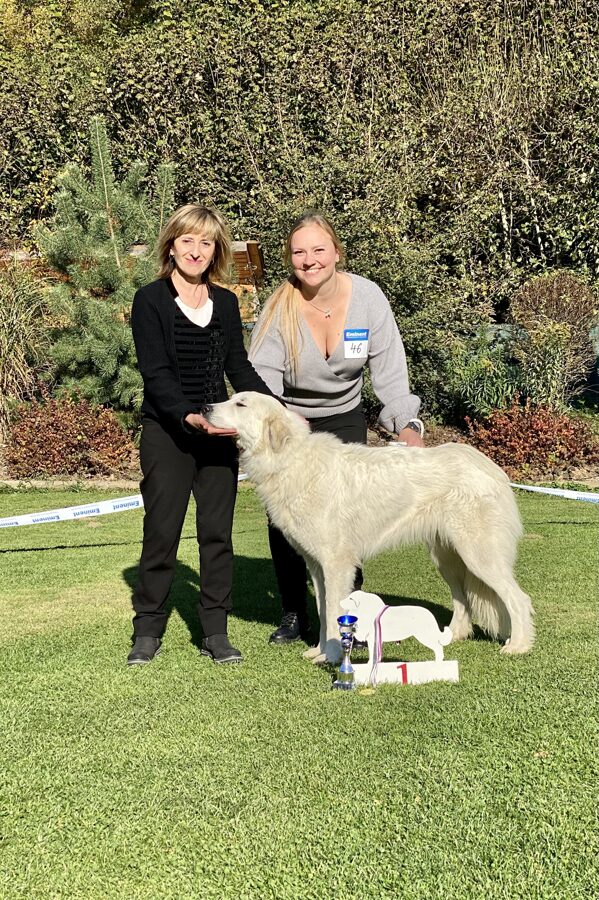 Chenespace One in a Million "Millie" - Excellent 1, CAJC - junior class females with the judge Elena Vespa
No comments
Leave a reply